Wednesday 14:35 AST - Who was the munchkin head that booked this travel? Ponce is two hours from San Juan. By cab. 75 miles. $135 plus a tip. Oops! Thank god I didn't have to ask the cabbie to stop so I could pee. But good things come out of everything. My cabbie invited me over to his house for breakfast if I called him for my return trip to San Juan. Things you shouldn't do while traveling? Probably! I tend to trust cabbies with my life even though I hate not being in control of a vehicle moving 20 miles an hour over the speed limit. No matter where I am. But especially when we are navigating through [gorgeous, lush] mountainous terrain. I did get a glimpse of The Teats of Cayey... sexy... Cayey is known as "
La Ciudad del Torito
" (town of the little bull) and "
La Ciudad de las Brumas" 
(city of the fog). Her peaks are nice. Time to move on. As we drove [ridiculously fast] south, the terrain became more arid, almost desert like and reminded me of Aruba. Are we there yet?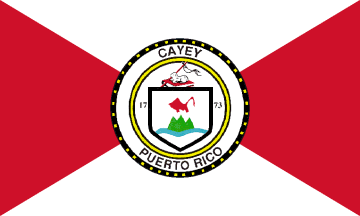 Wednesday 16:30 AST - Welcome home for 40 hours of my 44 hours in Puerto Rico. Where's the rum? Ah, shit. I have a conference call to attend to. And then actual work to do? That's all right in my book. These working conditions are much better. The beauty of being remote is that my office is determined by "is there internet?" All these years of complaining/wishing/hoping for an *ideal* climate of 70's at night and 80's by day is answered yet again. Put the lime in the coconut! Thursday 06:45 AST - Good morning.  Should I lace this cup of coffee with rum? No, work to do first, then hit downtown for a little sight seeing and then back to work before painting the town after dinner. Thursday 12:05 AST - Break from work. I asked the hotel to call a cab and take me downtown. "We don't recommend our guests go downtown during Justas." I had to ask and found out that it's spring break for Ponce University. Mardi Gras times 10. OK, you just made me want to go even more by telling me that you do not recommend it. In the cab I go. Thursday 12:25 AST - It's raining cats and dogs so I duck into a New York style pizza joint for a slice and to wait out the rain. What? NY pizza in the islands? Hey, a boy has to eat and it was the closest escape from the rain. Once it cleared up, I roamed around being the tourist and snapping pictures. The architecture is absolutely lovely. I just love this shot. 
Thursday 14:29 AST - Back to the hotel to work for a bit, grab dinner and make that decision that usually I regret. Thursday 21:02 AST - Cabbing it back downtown, don't get arrested, that's the only rule. Friday 06:15 AST - I'm in my hotel, I honestly do not recall a thing from last night. This could be good, it could be bad. I'm alive though. I really should stop doing that sort of thing. When you just go, immerse yourself, lose yourself. I would be a great candidate for a pick pocket or scam artist during these times. I know it was loud with lots of music, and I know there were shit tons of people, shoulder to shoulder. But that's it. No recollection of the cab ride back to the hotel, if in fact I took a cab. I can only hope that at some point in the evening, I bought a beautiful lady a drink and said cheers. In my broken nonexistent Spanish. And hopefully I did not tell her I love her long time. Since I had no data on my phone, I cannot do the old school way and look at where I checked in and my random status updates on FaceBook, so it's just off to write it down as "I did something in Ponce during Justas 2013." Friday 11:35 AST - Time to go, it's been fun, it's been real, see you soon!